Still havent turn the big 30 yet... but I am wondering if I am not getting old since I am in Hong Kong... or could this stressful city be the reason I am becoming so fragile?
After a blocked lower back the first year, followed by a broken foot the second year... No worries, I am being consistent here with the third year in this city starting well too - a knee injury!
I started running around 6 months ago while my life was getting a bit out of track in every way. These running sessions gave me the energy I was missing at work and in my personal life. And after everything was well again, I realized that I was already enjoying this sport. It slowly became an addiction... a good one with 3 running sessions a week and Xavier and I even started to run together in the evenings. It seems at least 3 other neighbors have been motivated by us now and go (even more often than us) on the near-by outdoor jogging track...
So recently during one session, I felt a sharp pain in my right knee and I had to stop exercizing straight away. I took one week rest with some quick massages at home and pain killers and went back on the treadmill just to realize the pain hasn't gone away and it was worst than the previous week.
Direction a physio! Not joking anymore with stupid injuries now... to end up with a torture's session specifically designed for me!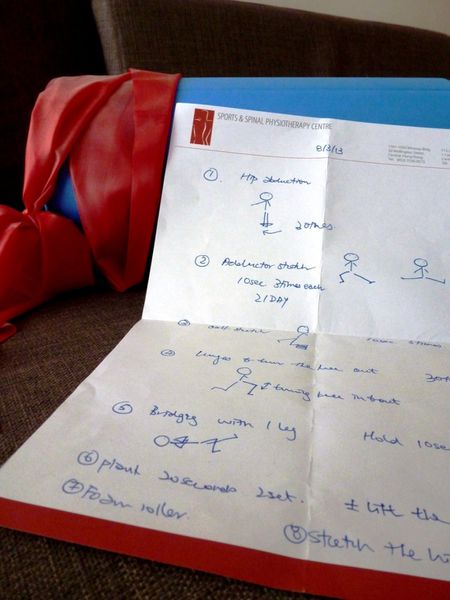 My knee is slowly getting better. It seems I don't have strong enough muscles in my other legs and my butt so the pressure on this knee is too big... Nothing major... Good point is I found a very good physio in HK in case you need one too?
No running for 4 weeks and plenty of strengh exercises to do at home and we will see the results as soon as I try again.