Saucisson au chocolat
Recipe inspired by Menier
When Lucile did this recipe at one of our party in Hong Kong, I could remember exactly in my head from where it comes from… ;)
In my childhood, my mother uses to bake with the "Menier" chocolate, a famous green chocolate bar in which you will find and collect their own chocolate recipes on a green index card… The perfect idea for a kid's party!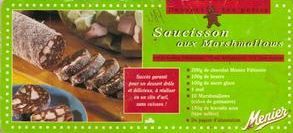 You'll need:
200g milk chocolate
100 g butter
50 g icing sugar
1 egg
10 marshmallows
150 g biscuits (French palets breton are the best of course!)
Melt the chocolate with the butter in the microwave. Once it is fully melted and smooth, allow a bit of time for the mixture to cool down.
Add the egg and mix with a wooden spoon.
Crush the biscuits with a rolling pin, cut the marshmallows in 4 and add them to the mixture.
Add the icing sugar and mix until fully combined.
Stop everything and taste the chocolate mixture… Don't eat everything now; it will only get better after!
Transfer the mixture into a long plastic wrap. Roll it tightly into a "sausage" shape. Keep in the fridge for at least 6 hours.
Before serving, remove the plastic wrap and roll the sausage in icing sugar to obtain the real "saucisson" look. Slice and serve ;)
This treat is very very sweet, you can change the milk chocolate to dark chocolate and add a bit of sugar (100g in total) as per the original recipe.