Home made Paninis
I wanted some Panini since a while and I couldn't manage to find a good one in Hong Kong neither could I find ready-to-use breads in the supermarket to make it myself... So I decided it was the right time to do it myself.
For 8 Panini breads (4 persons)
500 g white flour
14g dried yeast
150 ml lukewarm water
150 ml lukewarm full cream milk
36 g olive oil
½ tablespoon of salt
In a large bowl, mix the flour with the dried yeast. Once mixed, add all the other ingredients in the bowl.
Start mixing with a wooden spoon and finish by kneading the dough by hands until fully combined.
If you want to have a specific flavor in your dough, you can add some herbs or seeds at this stage.
Place the dough in an oiled bowl and cover with a humid towel. Allow to rest in a warm room for 2 hours.
Yes, I really want a Panini!
After this time, the dough should have doubled in size. Remove it from the bowl and punch it 2-3 times to knock the air out.
Shape the bread into small Panini (or longer one if you prefer but I choose to do small one to be able to change the ingredients). Place them on a baking tray, brush with olive oil (you can also add herbs on the top if you like), cover again and allow to rest for 45 minutes.
Pre-heat the oven to 180 C, brush them again with a bit of olive oil and cook for 10 minutes.
The Panini breads will remain white (they are not supposed to be fully cooked as you will still cook them in a grill with the fillings.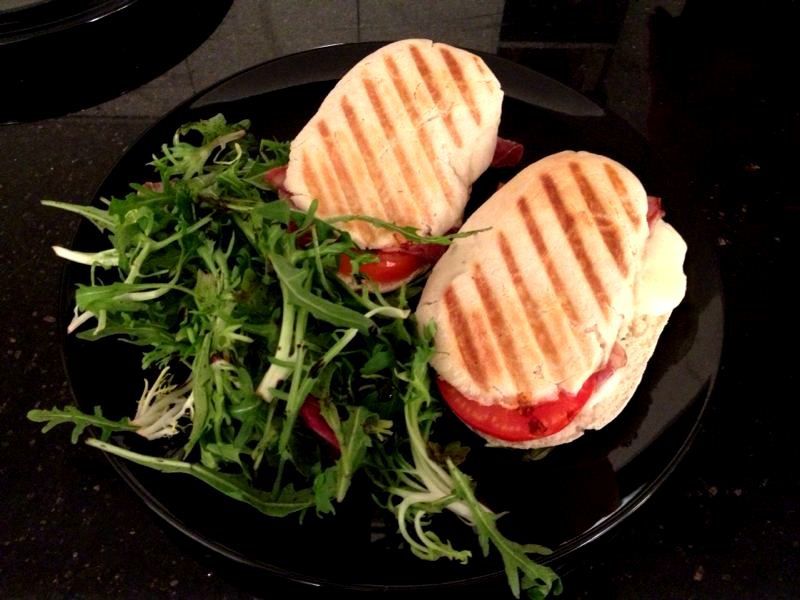 Some ideas for your fillings:
- Tomatoes, mozzarella, parma ham and fresh basil
- Goat cheese and mangoes chutney
- Avocado, halloumi
- Chorizo, emmental, caramelized onions
And much more endless possibilities!