Two weeks ago, on a nice and warm Tuesday lunch, I decided to spend the hour at lunch time outside on a terrace and share a meal and gossips with a dear friend…
What is wrong with that ? NOTHING, right ???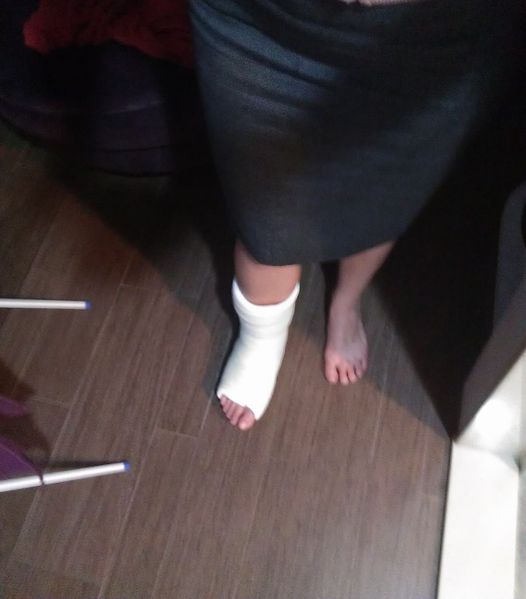 Ah ben yes… except that sometimes life is unfair!
On my way there at 12 pm, I tripped on the street and I felt a terrible pain in my ankle. Thinking it was only a twisted ankle and being only 5 meters from the restaurant, I decided to go there and wait for a while and my foot was supposed to get back in order.
The owner of the restaurant was great and offered me an ice bag to try to save my foot. However after only 40 minutes and without being able to stand anymore the pain, I thought it was time to go to the nearest hospital to check my new injury.
At my arrival barely walking on my two legs, the nurse ran to me and told me that I shouldn't be walking and that I have hurt myself very very badly. Thanks for the remarks, it is not like I already wanted to cry and faint ;)
After few minutes spent on a wheelchair outside the doctor room, I could finally see him and be ordered to get x-rays as the pain was too high for a simple twisted ankle…
Being disabled on a wheelchair is a strange experience even if it happened to me for only one afternoon… having to wait for a nurse to be available to push you to your next appointment is a bit annoying and every patient is looking at you with a weird look as they don't understand why you are currently in a wheelchair (which means sicker than them… while you look healthier)
When the doctors first gave me my X- rays I was relieved as I couldn't see any broken bones… which was of course not the case as the next doctor explained me (also that's must be why he is a doctor and not me…)
As I went to the only hospital I knew which doesn't have an emergency service, I then had to wait for 3 hours for the traumatology and orthopedics specialist to start his day. Aware of my injury by a phone call, I was glad that he rushed to the hospital an hour earlier than expected and started straight with my foot injury.
I was nicely offered a cast on my right foot (did I really have the choice?)… I had to answer to the usual questions for him again…
You can imagine the questions and the doctor becoming more and more suspicious after each answer:
Yes, the floor was completely flat
Yes, I was wearing flat shoes
No, I didn't have any old injury on this foot
No, I was not distract or on the phone
No, no one pushed me or fall on me
No, I didn't even fall, I just tripped
Arrrgggg... No I was not drunk at 12 o'clock on a Tuesday…
I ended up going back home at around 7.30 pm only on crutches with a beautiful cast for the first time of my life and each person who listen to my story is thinking either I am crazier than I look or being vegetarian is such a bad thing and it MUST be the consequences…
I will now have to keep it for 4 to 6 weeks. Sometimes at night when I kick Xavier with the wrong foot to have more space or during the day when I walk or stand too much are the only moments it is painful.
Everyone warned me that it will be scratchy but I am sorry it is not at all the case for me… (Or maybe I already have enough bad luck for the next month!)
Everyone wanted to draw on it but sorry it won't be possible until I am sure it will be removed soon, I am still going to work with it and it will be possible a week before only.
Everyone explained to me how bad and dirty and hairy my right foot will look when relieved… thanks for the picture guys, I get it… I will have one dirty chicken foot soon!