Quatre-Quarts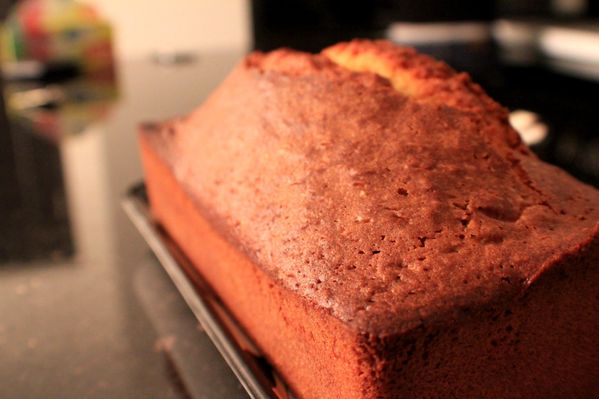 The pound cake is a very traditional French cake from the region of Brittany. The same quantity of the 4 ingredients is used for this recipe. This cake was part of my childhood whenever my brothers, sister and I were getting back home after school and rushing to get a piece of this cake for the afternoon snack. It seems Xavier's colleagues didn't have to wait the afternoon to finish it!
You'll need:
4 eggs (217g for me – weighted without the shell)
Same weight of flour (217g)
Same weight of icing sugar (217g)
Same weight of salted butter (217g)
4 g baking powder
Pre-heat the oven to 170 C
Mix the eggs with the icing sugar with an electric mixer until the mixture is becoming white and fluffy. (It should take around 5-6 minutes).
Add the melted salted butter and whisk again until fully incorporated.
Gradually add the flour and the baking powder into the bowl and mix until the mixture is fully combined.
Grease your baking pan and pour the mixture in the pan.
Bake for 45 minutes (or until you place a skewer in the center of the cake and it comes out dry)
Allow to cool down on a rack before serving. Enjoy!!!