The new budget for 2013-2014 has been presented on the 27th of February by the finance minister J. Tsang Chun-Wah. Based on a 1.5 % to 3.5 % economic GDP growth and an annual inflation around 4.2%, the total government expenses budgeted is 440 billion HKD.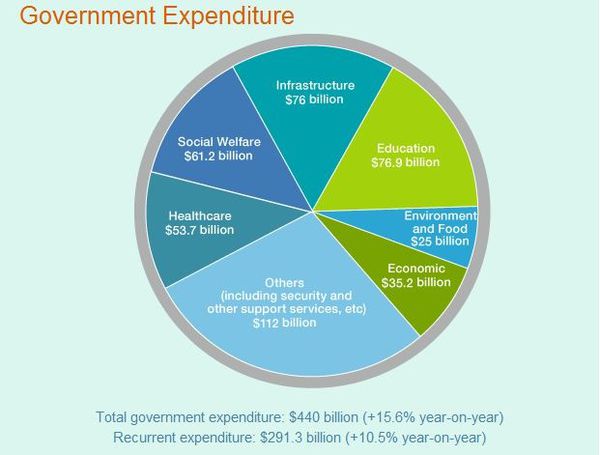 Some of the details budgeted expenses as per the official government website (if you wish to see the full list, click here)
Poverty Alleviation
- Inject $15 billion into the Community Care Fund
Elderly Services
- Allocate $8.3 billion for payment of the Old Age Living Allowance, to benefit more than 400 000 elderly people
- Allocate $380 million from the Lotteries Fund to launch the first phase of the Pilot Scheme on Community CareService Voucher for the Elderly
Rehabilitation Services for the Disabled
- Allocate an additional $35.6 million to provide 145 new places each for residential and day training services
- Allocate an additional $67.9 million to increase the manpower of residential care homes and day training centers
Healthcare
- Use $8 billion to redevelop Kwai Chung Hospital
- Allocate $44 million to include in the Drug Formulary two chemotherapeutic drugs and expand the clinical application of two special drugs for treating advanced Parkinson's disease and cancer
Land Supply
- Include in the Land Sale Program 46 residential sites, of which 28 are new sites
Infrastructure
- Capital works expenditure for next year will reach $70 billion, creating about 75 000 job opportunities
Education
- Inject $480 million to set up scholarships for 20 outstanding students to pursue studies overseas. Awardees must
undertake to be teachers upon graduation
- Allocate $12 million to the Vocational Training Council to support students with special education needs
Environment
- Earmark $10 billion to phase out old diesel commercial vehicles
- Earmark $500 million to set up waste electrical and electronic equipment processing facilities and five community green stations
It seems not everyone is happy with this new budget; the main issues are regarding the housing issues in HK and a global retirement protection scheme for everyone to have access to.
The government is still having a huge budget surplus presented by J. Tsang Chun-Wah to cover the unstable "intricate external environment". He said "the relief measures, involving a total of HKD 33 billion, will help to ease the pressure on the middle class, grass-roots and small and medium-sized businesses".