As if this time of the year wasnt busy enough for me, I wanted to challenge myself a little bit…
I registered for a physical challenge taking place very soon, Sunday 28th of October.
Of course, I am now counting on you to come and support me if you are available ! Don't worry, you could chat with Xavier while I am doing all the work.
SO what's the challenge ?
A 2.6 km swimming race in the New Territories !! Here is the picture of the race.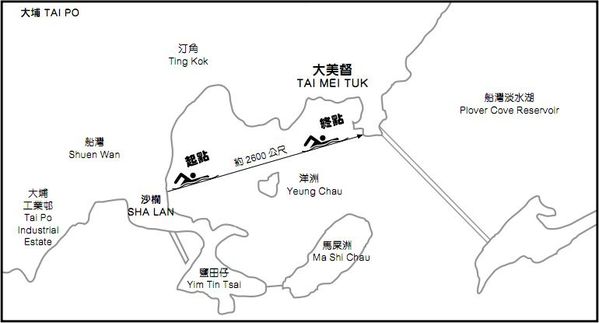 First organized in 1972, this race is very popular in HK. Unfortunately it seems not a lot of Westerns are participating as all the information I was able to find were only in Chinese. Thanks to Xavier's colleague I was able to get a proper translation even if I almost missed the deadline for application.
I was motivated by JF, my brother, who planned to do the 2.5km Paris race earlier in September and before the event was cancelled for real (or fake) reasons. In HK, the water is as dirty as the one in Paris so I hope I won't have to swim between rubbish, debris or corpses...
The race has to be finished in less than 1h30 or a boat will be taking out of the water the remaining contestants. 899 participants and myself will compete for the first place! ;)
It will be my first open water competition so my first goal is to finish the race without being picked up by the « Boat of Shame »
Let's play a small game, send me the time you think I could achieve and we will have the answer in 10 days now ! The closest one will receive a personal HK gift from me!!