Whenever you are working out on your own, you sometimes feel like it is difficult to know which exercises to focus on, to stay motivated after the first month or worst, you don't see any improvements in your physical conditions… For all of those reasons, my first session with Joe was a real change in my fitness life! I always loved to exercise but like almost everyone, I can easily lack motivation….
Planning to do it regularly, Xavier and myself signed up for a weekly session on Tuesday with another couple: Camilla and James!
Joe started his own fitness company recently and each session is different; focusing on cardio in the first part, following by arms and legs work to strengthen our muscles and finishing with core and abs exercises… the funniest part for some of us!
I didn't expect the exercises to be that simple first but when I had to repeat them for a while, I could feel my muscles burning! The big difference with a personal trainer is that he will push you until the end of the reps… he is watching you and it's a fact that you always work harder when someone is on your back the whole time!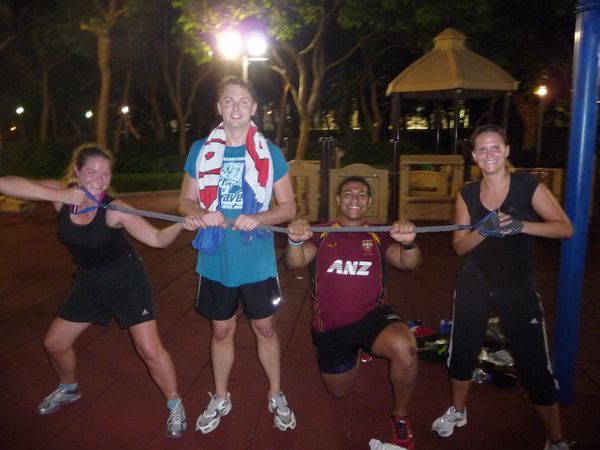 After few weeks, I feel fitter than before even if I always end the session totally exhausted! The days following the 3 or 4 first sessions were the worst of my life as I could barely walk anymore or move my arms. I was going straight to bed at the end of the session. However, I am now more energized when I left the session than when I came there after work.
If you are in HK and looking for a new way to fitness, you might want to have a look at Joe's website ! And if you are planning to visit me and your visit is including a Tuesday, you will be up for a session with us…
By the way, Joe in the picture is the only one not looking exhausted…