Confiture de mangue a la vanille
The souvenir of my mother doing jams when I was a kid... It was a serious moment and kids were not allowed in the kitchen especially during the sterilization of the jars.
Our teachers at primary school were all having their own jar as a gift at year end and I am sure they did appreciate it a lot too!
I decided it was time for me to carry on the family tradition and here are my first jams ever.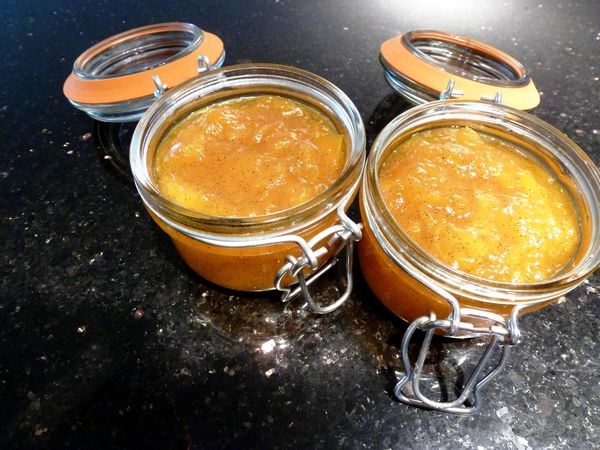 You will need:
575 g mangoes flesh
200 g white sugar
80 g vanilla sugar
1 vanilla pod
1 pinch of cinnamon
Peel and chop the mangoes and keep in a large pot.
Add the sugars.
Open the vanilla pod and scrape out the seeds and add them to the mixture. You can also keep the pod in the mixture to add more flavors.
Keep the mixture covered to marinade for at least 3 to 4 hours in the fridge.
Remove from the fridge and add the cinnamon.
Bring to a boil with medium heat and stir regularly with a wooden spoon for 20 to 30 minutes.
Your jam is ready when the texture is becoming "gel like" and firm; take a small amount of the mixture in a spoon into a cold plate and observe is the jam is still liquid or stay in place. If it is not ready yet, keep cooking.
While the mixture is boiling, sterilize the jars in boiling water. Let them dry on a clean towel before using them.
Transfer the jam into the jars. If you prefer, you could also mix the jam to make a smooth jam instead of a chunky one. I like the inconsistency of a jam with fruits chunks but that's my personal taste.
Let them cool upside down for around 12 hours.