Madeleines Recipe inspired by Le Notre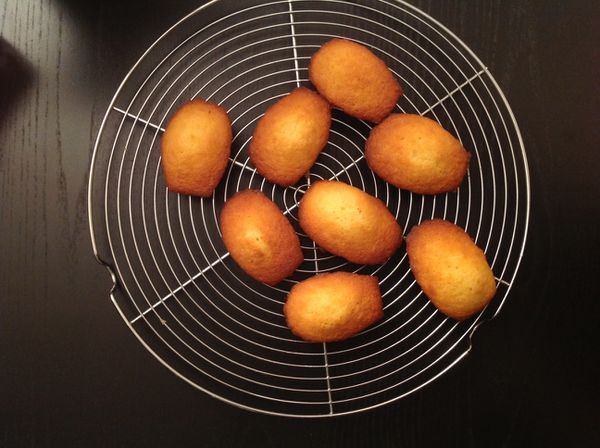 Created around 1750, the Madeleine is a classic French afternoon snack especially when you are a kid. The ingredients are all easy to find and the only difficulty for this recipe is to create the famous bump on top of the cake.
You will need:
100 g sugar
30 g vanilla sugar
150 g flour
125 g salted butter
3 eggs
20 g honey
15 g baking powder
1 teaspoon of vanilla extract
In a large bowl with an electric mixer, whisk the eggs with the sugars, the vanilla extract and the honey until the mixture becomes white and fluffy (not sure if "fluffy" is an English word but I does represent the texture of the mixture for me ;)
Add the flour and the baking powder then add the melted butter. Mix until the ingredients are fully combined.
Keep refrigerated for at least 2 hours (one night will be best but who is really planning to bake them in the morning before work?)
Pre-heat the oven to 240 C.
With a table spoon, fill up the pan with the mixture.
Bake for 5 minutes at 200 C, then 5-6 minutes at 180 C. You will have to stay next to the oven to watch out how the Madeleines are reacting and adjust the timing or the temperature if needed.
Transfer immediately to a cooling rack to allow cooling and start eating one (or two?) while cleaning your mess in the kitchen (just to try…)