If you are living in HK for a while, you might have realized that many local stores offer promotional "Stamp collection" offer.
One of them looks like this (Welcome shops).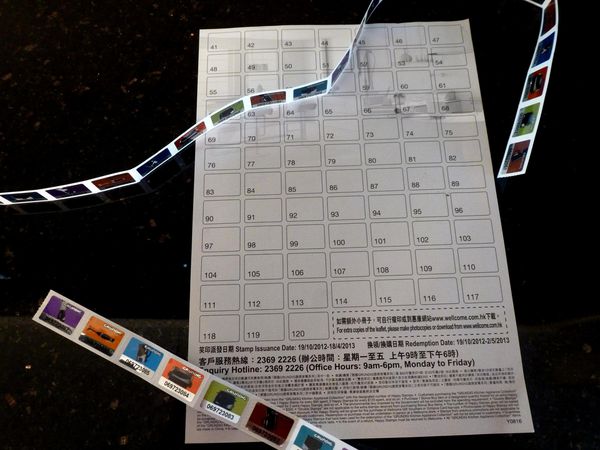 So the principle is very simple. Every time you purchase things for a certain amount, you will be rewarded with one stamp. Once you have reached a huge (unreachable) amount of stamp, you can redeem one of the designated items. So far, I have seen Charms & Hello Kitty stuffs at the 7-Eleven and luggage, Angry Birds toys and electronic appliances at the Welcome.
We have never managed to reach the requested amount of stamps before the deadline! I thought this was only another trick to push customers to spend more…
But this time was the charm!!! We did it!!! And we even have extra 36 stamps at home if someone is interested ;) Thankfully it was during the electronic appliances ranges because we never really needed a new luggage or Hello Kitty stuffs…
Here is our new toaster and it does match perfectly our black and white design at home.
So I am being ambititous now, I have also registered (after more than 2 years in HK) for the "Octopus Cash Reward" Program! I am not too sure yet how it does work but I'll keep you posted for sure!