Tarte aux myrtilles Inspired by the Larousse Cuisine
It is the blueberries season in Hong Kong. Every time I passed through the fruit stall I was telling myself I should buy some and bake something as there are too many of them!
So here you go with a blueberry tart.
You will need:
200 g flour
100 g unsalted butter
75 g white sugar
2 eggs
2 tablespoons of cold water
4 tablespoons of crushed speculoos
500 g fresh blueberries
7 cl fresh cream
1 pinch of salt
Icing sugar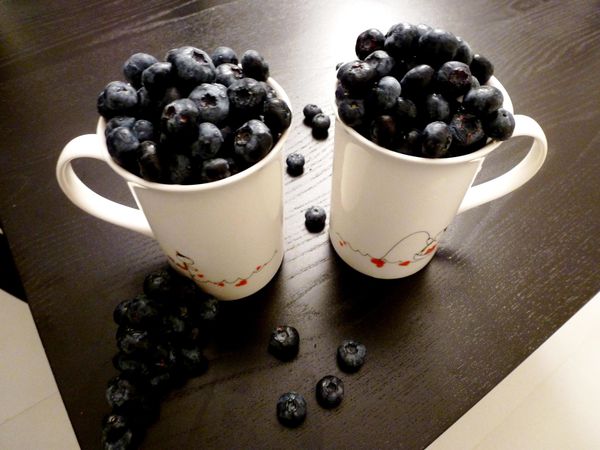 Starting with the Pate brisee, place the flour and the salt in a large bowl.
Cut the butter into small pieces and start rubbing the mixture with your fingertips.
Add one egg yolk, the water and 25g of sugar. Combine the ingredients all together until it forms a ball that just holds together.
Remove from the bowl, place on a table and knead the dough lightly with the heel of the hand against the table to blend in the remaining fat.
Wrap the ball in a plastic bag and refrigerate for at least 30 minutes.
Pre heat the oven to 190 C.
Roll the dough into a round and transfer it to your tart pan. Press the crust into the pan with your fingers and cut the excess dough off with a knife.
Prick the bottom of the crust with a fork all over to prevent it from "puffing up".
Spread the crushed speculoos evenly on the bottom of the crust and then add the blueberries.
Bake for 20 minutes.
In the meantime, whisk together the remaining egg, the cream and the remaining sugar.
Remove the tart from the oven and add slowly this mixture on the blueberries.
Bake again for 15 minutes at 180 C.
Remove from the oven and let it cool down for 1 hour. Dust with icing sugar and serve.