Back for a class of Feng Shui!
Feng Shui means "wind & water" and is the ancient Chinese practice of positioning objects and construction in harmony with nature to ensure a good fortune. The objective of the class is to have a basic knowledge of Feng Shui to be able to help you guys with your home.
Every year, based on the lunar calendar, the positioning of positive and negative elements are changing. The one for the year of 2011 is presented here: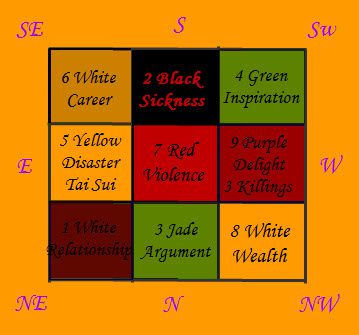 Each number has its own meaning. Basically numbers 4, 6, 8 & 9 are good numbers. 2, 3 & 5 are bad numbers while 1 & 7 are neutrals. To know better if you respect the Feng Shui philosophy, you can apply this chart to your apartment. The center of your place will be the number placed on the middle : 7 for this year. Then you will be able to deduct with a compass where are the other numbers in your apartment depending on the directions North, South, East and West.
If you don't have an apartment big enough to have 3 empty rooms where the bad numbers are located, I am going you some tips on how to fight those bad influences. For the numbers 2 & 5, try to place round shaped metal objects to boost the good energy; it can be coins, meal plates, clocks... To fight the number 3, place red or purple items or decorations... no need to paint in red the all area...
Remember that those numbers are changing every year!